FreeWill just released a free (with email signup) new survey report about DAFs that highlights the results of a survey they did in January and February of this year of "nearly 500" nonprofit fundraising professionals from a range of nonprofit sizes and types. FreeWill asked about grants received from donor advised funds, outreach and marketing specific to DAFs, attitudes about DAF sponsors and much more.
The report is an easy-to-read 28 pages with graphs and charts that are clear and helpful.
It highlights five major areas:
DAF receipts by organization size
DAF promotion (or lack of promotion) on nonprofit websites and materials
How nonprofits are prioritizing donor advised funds
Nonprofit professionals' attitudes toward DAF sponsors
Challenges nonprofits face regarding DAFs
First, what is FreeWill?
Co-founded in 2016 at Stanford University by Jenny Xia Spradling and Patrick Schmitt, FreeWill is a charitable giving platform that helps people write wills and trusts for free and connects them to nonprofits they may want to support. With over 200 employees, FreeWill has enabled over $7 billion in new gifts and gift commitments to over 1,100 nonprofit partners.[1]
What are a few things they found from those they surveyed?
The organizations surveyed received 56% more dollars from DAF grants in 2022 than they did in 2021 and the average gift size increased by 24%.
While large organizations received more money overall from DAFs, smaller nonprofits saw a larger growth rate in DAF giving (43% vs. 23% growth for large nonprofits).
When you ask, you receive (and when you don't, you don't): nonprofits that promoted DAF giving were more than 2x more likely to receive grants from DAFs. Check this out, pulled directly from the report: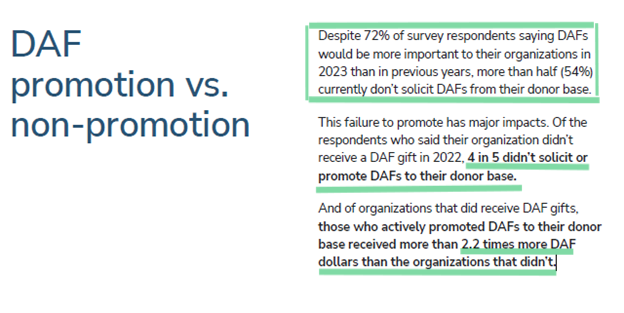 Nonprofits named two major pain points around DAF giving: difficulty in stewarding donations (check out this article for help) and just finding out if someone has a donor advised fund (have you checked out DAFinitive™ yet? That's exactly what we do!)
We encourage you to take a look at the full report. If you're not currently promoting DAF giving on your nonprofit's website, we hope it will help inspire you to add a new feature to your front page.
---
[1] Neither The Helen Brown Group nor DAFinitive™ has any relationship with FreeWill and we've taken no compensation for highlighting this report. We just think it's a great resource for you to check out!